Aligning with the cost, speed and sustainability potential of offsite and timber frame construction, MEDITE SMARTPLY's extensive range of SMARTPLY OSB/3 and OSB/4 panels are developed to meet the most demanding of applications. Furthermore, they can be easily produced to the large scale size requirements often demanded by offsite and timber frame construction, thanks to Contiroll® manufacturing; the continuous pressing of wood strands into panels.

When properly managed, timber is the only 100% sustainable construction material. We have pioneered the sustainable timber industry in Europe, with all our specialised timber panels produced essentially as by-products of the sustainable forest management of the 7% of Ireland's forests now owned by Coillte. Producing all of our SMARTPLY OSB from this source guarantees the sustainable production of our entire product range.
From Seed to Sawdust – Episode 18 – Exploring Engineered Wood Products in a Visit to SMARTPLY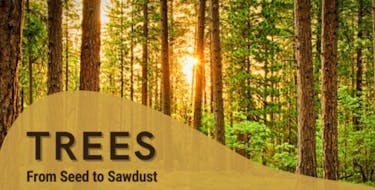 Our CEO, Neil Foot, and Head of Technical Affairs and Ireland Sales, David Murray, speak in a podcast on KCLR radio station, exploring how SMARTPLY OSB is made, its sustainability credentials, the importance of building with timber whilst fighting climate change, our innovation and our technology.
What does MEDITE SMARTPLY bring to Modern Methods of Construction (MMC)?
With six structural SMARTPLY OSB solutions catering to the MMC, MEDITE SMARTPLY has sought to ensure the core qualities of strength, versatility and sustainable manufacturing are present throughout, while offering customers the choice of OSB/3 or OSB/4, moisture resistance, fire protection and largescale sizing, depending on project needs.
Read more in our Modern Methods of Construction guide