Overzicht
SMARTPLY PATTRESS PLUS is een OSB/3-paneel met een doorlopende uitsparing, ontworpen voor de bevestiging van 'C'-vormige, metalen bouten, gebruikt bij de constructie van gipsplaten.
Het is getest op de relevante BS5234 Part 2-vereisten met een hoge spanning-sterkteverhouding. Het plaatmateriaal is getest conform de relevante secties uit BS5234 deel 2 en vertoont een zeer hoge uittrekweerstand.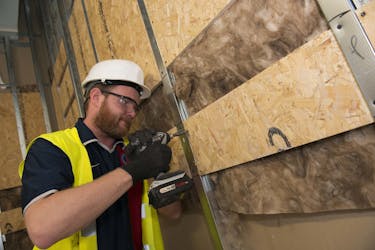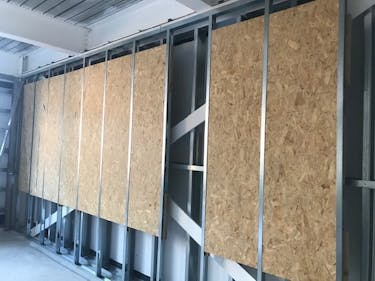 In het kort
Sterke OSB/3-plaat met doorlopende uitsparing

Voorbereide modulaire plaat

Snelle plaatsing

Maakt veilige verankering mogelijk

Geen toegevoegd formaldehyde

FSC®-gecertificeerd
Specificaties en afmetingen
De SMARTPLY PATTRESS PLUS is vervaardigd volgens de EN300-norm, CE-gemarkeerd en FSC-goedgekeurd, en vormt dus een volledig gecertificeerd alternatief voor tropische multiplexplaten.
Afmetingen

1250 x 397mm
Dikte

15 and 18mm
Afmetingen

2397 x 397mm
Dikte

15 and 18mm
Afmetingen

1250 x 597mm
Dikte

15 and 18mm
Afmetingen

2397 x 597mm
Dikte

15 and 18mm
Toepassingen
SMARTPLY PATTRESS PLUS is ontworpen om ondersteuning te bieden voor armaturen en bevestigingen in niet-structurele, metalen boutconstructies.
De voorbereide modulaire panelen zijn snel en eenvoudig te gebruiken en zijn compatibel met alle in de handel verkrijgbare bevestigingssystemen voor droogbouw.De hoogwaardige OSB/3-kern verzekert veilige verankering op elk punt van het paneeloppervlak.
SMARTPLY PATTRESS PLUS voegt geen volume toe aan de afgewerkte scheidingsdikte en biedt een robuuste scheidingsstructuur die over een hogere stootvastheid beschikt en daarom bijzonder geschikt is voor toepassing in openbaar toegankelijke ruimten, waaronder gangen en traphuizen.
PATTRESS PLUS is een OSB/3-paneel zonder toegevoegde formaldehyde en verleent zich daarom prima voor milieuvriendelijke interieurtoepassingen voor bijvoorbeeld ziekenhuizen, laboratoria, musea en scholen.