During the first quarter of 2021, the construction industry has seen workloads rise and fall, with periods of growth and slumps to match. This is largely a symptom of both trade and supply problems surrounding Brexit, and restrictions caused by the Covid-19 pandemic.
Construction output fell by 1.0% in the last months of 2020 to February 2021 due to a reduction in new work and in repair and maintenance. However, the latest figures show that the construction sector has had its sharpest rise in activity since 2014,[1] with housebuilding performing the best.[2]
What does this mean for roofing? Figures have also shown that as well as a boost in major infrastructure, there has been increased spending in residential and commercial work, amid rising new home sales. This could potentially lead to demand for more roofing projects, now that the UK is driving towards post-Covid-19 recovery.
Roofing-ready products: SMARTPLY: OSB
To meet the demands of the roofing industry, MEDITE SMARTPLY has developed three sustainably manufactured OSB panels: SMARTPLY ULTIMA OSB/4, SMARTPLY MAX OSB/3 and SMARTPLY MAX FR B OSB/3, which is flame retardant.
All three specialised panels are lightweight and structurally sound and can be made longer and wider; up to 2.8m wide by 7.5m long. This makes them ideal for covering extensive meterage in less time, allowing projects to progress faster, and with fewer workers on site if necessary, without compromising on durability or strength.
SMARTPLY MAX OSB/3 is a highly engineered, moisture resistant wood-based panel, that is versatile enough to suit a number of applications including flooring, wall sheathing and roofing.
Offsite construction has also seen an increase in activity and funding, and if this is where your roofing project lies, then the SMARTPLY ULTIMA OSB/4 is the ideal product. Manufactured using ContiRoll® technology, it's suitable for the most demanding structural applications, in large formats. It also has the additional benefit of high moisture resistance and loadbearing capacity. These features make it the ideal panel for use in timber frames and offsite construction.
If fire safety is a concern, SMARTPLY MAX FR B is ideal for use as an integral component in roofing systems where a Euroclass B reaction to fire performance is required. SMARTPLY MAX FR B achieves a Reaction to Fire Classification of B-s2, d0, and Bfl-s1 (flooring) in accordance with EN13501-1.
Whatever the project, let's do the right thing and choose MEDITE SMARTPLY. Find out more about our roofing-ready products here.
*Please note: information is correct as of 16 April 2021 and may be subject to change.
[1] https://www.theguardian.com/business/2021/apr/08/sharp-pick-up-in-uk-construction-amid-economy-recovery
[2] https://www.markiteconomics.com/Public/Home/PressRelease/4a92082b9ed14581a5de137af3ca6e5b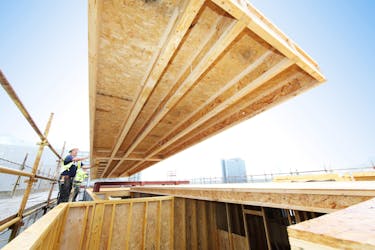 Sterke OSB4-plaat

Sterker en beter bestand tegen vocht dan OSB3

Hoog draagvermogen

Consistent oppervlak

Geen toegevoegd formaldehyde

FSC®-gecertificeerd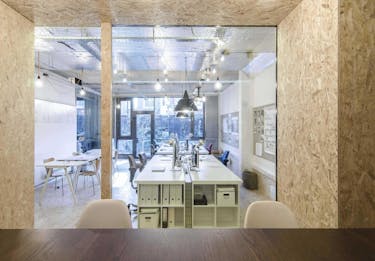 OSB/3-plaat

Hoge scheurbestendigheid

Veelzijdig constructief plaatmateriaal

Geen toegevoegd formaldehyde

FSC®-gecertificeerd