The refurbishment of the 160,000 square-foot John Lewis store in Edinburgh includes the installation of SMARTPLY PATTRESS PLUS – MEDITE SMARTPLY's robust pattressing panel.
Bradagh Interiors Ltd, which has been working intermittently on the refurbishment during the past five years, specified PATTRESS PLUS throughout levels one, two and three of the department store, after having successfully used it before.
Kevin Gallagher, Director of Bradagh Interiors, explained: "There's more than one reason why we chose PATTRESS PLUS. Firstly, I had issues in the past with using plywood on the face of studs because of the acoustics field. Plywood is made up of layers of veneer glued together and although it is a natural product, it's not fully regimental and it was allowing sound to penetrate through the gap. By using PATTRESS PLUS I could screw everything directly into the studs and avoid this problem.
"Furthermore, because plywood had previously been used on the face of the walls, they were going much higher than the ceiling in certain places. This is something else I wanted to avoid on this project."
SMARTPLY PATTRESS PLUS is an engineered OSB/3 panel incorporating a continuous recess, specially designed to accommodate 'C' shaped metal studs used in the construction of plasterboard partitions. This robust panel is tested to the relevant sections of BS5234 Part 2 demonstrating high pull-out strength, making it ideal for large commercial fit outs where wall installations and racking may have to bear heavy and changing loads.
Pre-cut and pre-rebated for a speedier, safer and easier installation, PATTRESS PLUS comes in thicknesses of 15mm and 18mm, and in sizes ranging from 1250mm by 397mm to 2397mm by 597mm to suit a range of partition systems with 400mm and 600mm stud centres.
Crucially, PATTRESS PLUS does not add to the thickness of the partition wall. It provides a robust partition structure suitable for use in public access areas including corridors and stairwells, which contributes to higher levels of impact resistance.
The added benefit of PATTRESS PLUS is that it is manufactured with zero added formaldehyde, making it suitable for environmentally sensitive interior applications where there are likely to be high numbers of people such as hospitals, museums and department stores.
"We have used it on multiple occasions before," Kevin continued, "and have always been happy with the result, as have my clients, and this contract is no exception."
The refurbishment will see new features and services added to the John Lewis store, including a home design department, an optician, a beauty concierge and dedicated areas for famous brands.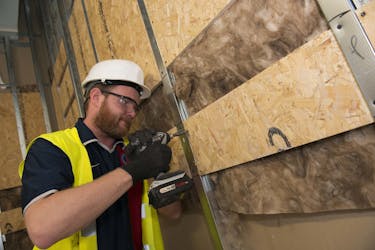 Sterke OSB/3-plaat met doorlopende uitsparing

Voorbereide modulaire plaat

Snelle plaatsing

Maakt veilige verankering mogelijk

Geen toegevoegd formaldehyde

FSC®-gecertificeerd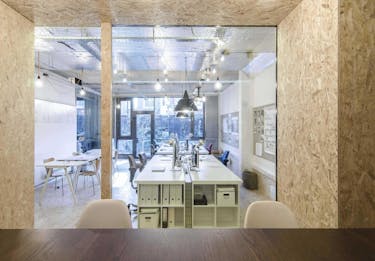 OSB/3-plaat

Hoge scheurbestendigheid

Veelzijdig constructief plaatmateriaal

Geen toegevoegd formaldehyde

FSC®-gecertificeerd