Castle Park view is a new development
Castle Park View is a new development regenerating a former brownfield site owned by Bristol City Council and Homes England, bringing some of the best one, two and three-bedroom dedicated Build-to-Rent homes to the city centre.
When finished, it will be the tallest residential building in the city centre of Bristol and will have its interiors fully installed with SMARTPLY PATTRESS PLUS panels throughout, ensuring strength and stability in the eventuality that appliances will be hung or installed on the walls.
Shaun Brunt, Contracts Manager for Optimum Drywall Systems, who are installing the panels, said: "This is an extensive project covering 322,000 square-feet. Over such a vast area, it's essential for us to make sure we were always running on schedule. PATTRESS PLUS has helped us to do that by saving us time in this area."
PATTRESS PLUS is a high strength, engineered OSB/3 pattressing panel, precisely cut to perfectly fit into the 'C' shaped studs used to hold pattressing in place within the structure of a partition the wall, which allows the dryliner to work on their own if necessary. It has been found to save, on average, up to five minutes per panel installed. Over a largescale project, this has the potential to save a significant amount of labour, time and the associated costs.
"The PATTRESS PLUS panels fitted within the stud centres of 600mm/ 400mm perfectly," continued Shaun. "Not only did it allow us to install all pattressing to a very high-quality standard, but it also eliminated the potential health & safety hazards of trying to router the panels down on site ourselves."
PATTRESS PLUS panels are available in sizes 1250mm by 397mm and 2397mm by 597mm, however, in this instance, the panels were cut on site to meet the requirements of the project brief. The panels are also available in thicknesses of 15mm and 18mm.
"Using the clear and easy to follow datasheet guide, we installed PATTRESS PLUS with ease, and it allowed us to demonstrate its many benefits with clear evidence to our clients.
"All relevant information required was readily provided by the manufacturer, through our suppliers, Arnold Laver in Bristol, including the different sizes available and safe working load weights. This was great should we or our client have needed any further assistance."
PATTRESS PLUS is tested to the relevant sections of BS5234 Part 2 demonstrating high pull-out strength and meets the severe heavy-duty rating. The fact that it is made specifically to fit in-between each metal stud means it will not add extra thickness to the wall.
Additionally, the panels are sustainably manufactured with no added formaldehyde, making it suitable for environmentally sensitive interior applications where volatile organic compounds (VOC's) must be kept to a minimum. Ideal for public buildings, including schools, hospitals and museums – and applications in multi-storey residential developments such as Castle Park View.
Castle Park View will provide 375 new homes, comprising 300 one and two-bedroom private, rented sector homes and apartments, and five affordable homes.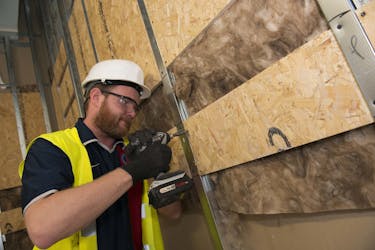 Sterke OSB/3-plaat met doorlopende uitsparing

Voorbereide modulaire plaat

Snelle plaatsing

Maakt veilige verankering mogelijk

Geen toegevoegd formaldehyde

FSC®-gecertificeerd