Gebouwen zijn verantwoordelijk voor 39 procent van de CO2-uitstoot wereldwijd. 28 procent is productiegebonden of komt van de energie om een gebouw te voorzien van warmte, verkoeling en stroom. De resterende 11 procent komt van materialen en constructie*. Dit betekent dat er bewuste duurzame keuzes moeten worden gemaakt bij het kiezen van bouwmaterialen.
Als het goed beheerd wordt, is hout het enige bouwmateriaal dat 100 procent duurzaam is. Het heeft de laagste CO2-uitstoot van alle bouwmaterialen. Wanneer bomen groeien nemen ze CO2 op, ze houden vervolgens de koolstof vast en geven zuurstof terug aan de atmosfeer.
Gebouwen met een houten structuur zijn milieuvriendelijker dan alternatieve bouwmaterialen vanwege de koolstof die door dit materiaal wordt opgeslagen. Dat is waarom hout de komende jaren de belangrijkste grondstof wordt om klimaatverandering te beperken. Daarnaast is het niet alleen een duurzaam bouwproduct, maar ook het beste materiaal om mee te bouwen voor energie-efficiënte gebouwen - het biedt namelijk een warmer huis en daardoor vermindering van het energieverbruik.
MEDITE SMARTPLY is vastbesloten om eindgebruikers ondersteuning en advies te blijven geven om samen een gezondere toekomst te bouwen.
Van zaadje naar zaagsel - Aflevering 18 - Onderzoek naar bewerkte houtproducten tijdens een bezoek aan SMARTPLY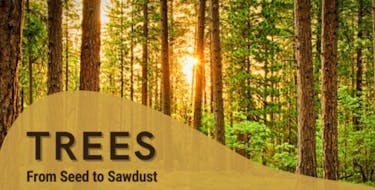 Onze CEO, Neil Foot, en Head of Technical Affairs en Ierland Sales, David Murray, zijn samen te horen in een podcast op radiozender KCLR. Ze spreken over hoe SMARTPLY OSB wordt gemaakt, de duurzaamheid ervan, het belang van bouwen met hout, onze innovatie en technologie.
Wat voegt MEDITE SMARTPLY toe aan Moderne Bouwmethoden (MMC)?
MEDITE SMARTPLY heeft zes structurele SMARTPLY OSB oplossingen voor de MMC. Bij de oplossingen zijn altijd de kernkwaliteiten van sterkte, veelzijdigheid en duurzame productie aanwezig. Het biedt klanten de keuze uit OSB/3 of OSB/4, vochtbestendigheid, brandbeveiliging en grootschalige afmetingen, afhankelijk van de projectbehoeften.