Buildings are responsible for 39% of global energy related carbon emissions: 28% from operational emissions, from energy needed to heat, cool and power them, and the remaining 11% from materials and construction.* This means that when choosing build materials we need to make a conscious effort to choose sustainable options.
When properly managed, timber is one of the only sustainable mainstream construction materials. Timber benefits from having one of the lowest embodied CO2 of any building material. Trees soak up the carbon dioxide and as the tree grows it holds on to the carbon and releases oxygen back up into the atmosphere.
Buildings constructed from structural timber sourced from sustainably managed forests can be a more sustainable solution than alternative construction material such as brick & block. Greater use of timber could mitigate climate change. Over the next few years, wood will be the most important resource for a sustainable economy. Not only is it a great sustainable construction product it also is the best material to build with for energy efficient homes – offering a warmer home and a reduction in energy consumption.
MEDITE SMARTPLY are committed to continue offering end users the technical support and advice they need to build a healthier future.
From Seed to Sawdust – Episode 18 – Exploring Engineered Wood Products in a Visit to SMARTPLY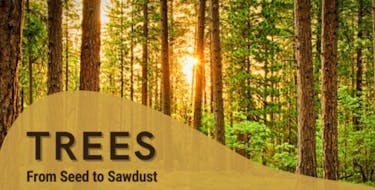 Our CEO, Neil Foot, and Head of Technical Affairs and Ireland Sales, David Murray, speak in a podcast on KCLR radio station, exploring how SMARTPLY OSB is made, its sustainability credentials, the importance of building with timber whilst fighting climate change, our innovation and our technology.
What does MEDITE SMARTPLY bring to Modern Methods of Construction (MMC)?
With six structural SMARTPLY OSB solutions catering to the MMC, MEDITE SMARTPLY has sought to ensure the core qualities of strength, versatility and sustainable manufacturing are present throughout, while offering customers the choice of OSB/3 or OSB/4, moisture resistance, fire protection and largescale sizing, depending on project needs.