MEDITE SMARTPLY is a market leading, responsible manufacturer of sustainable timber construction panels. As part of the Coillte Group, we pride ourselves on our sustainable supply chain and manufacturing processes, meaning our products are as environmentally conscious in their make up as they are in their application.

The focus on sustainable sourcing and the de-carbonisation of buildings is becoming ever more important as climate action rises to the top of the global agenda. Buildings are responsible for 40% of energy related global carbon emissions*. The World Green Building Council's aims for all new buildings and renovations to have at least 40% less embodied carbon by 2030 and to have net zero embodied carbon by 2050. The European Green Deal aims to support Europe in moving to a greener and circular economy and the UN's Global Goals for Sustainable Development calls for a global action in everything from tackling climate change to improving health and wellbeing.

Our products are sustainably sourced through our parent company and they help create healthier environments. Our entire MDF product range is CARB phase 2 compliant, which is a regulation limit lower than the European regulation E1 formaldehyde class and all of our OSB product range is manufactured with No Added Formaldehyde resin technology. Further proof of this is our EN ISO 14001 Certification for Environmental Management, as well as NSAI (National Standards Authority of Ireland) certification.

*https://www.worldgbc.org/sites...

Sustainably Sourced
Panels manufactured with timber from fully certified forests
Healthier Environments
Developed for environments where VOCs need to be kept to a minimum
Versatile
Products suitable for a wide range of applications
Sustainable Sourcing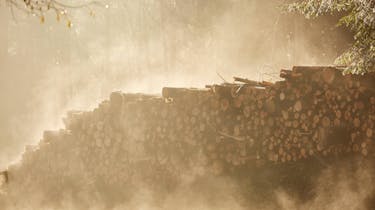 MEDITE processes 'waste' from the Irish sawmill sector, in the form of wood chip. This accounts for approximately 60% of the raw material input for MEDITE MDF, thereby fulfilling an important recycling element for the forestry sector.

SMARTPLY uses far less energy and resources to make than steel, concrete and other building materials. Over 75% of the energy we use in the manufacturing process comes from wood residues and recovered wood. Burning wood by-products as an energy source instead of fossil fuels increases the CO2 benefits still further.

With unrivalled quality and environmental certification, SMARTPLY OSB sheets are among the most environmentally efficient building materials on the market. SMARTPLY OSB is made from locally sourced, sustainable, FSC® certified, fast-growing timber: the forest thinning's of new-growth pine and spruce, including the tops which are not used to make any other wood-based product are used.
Products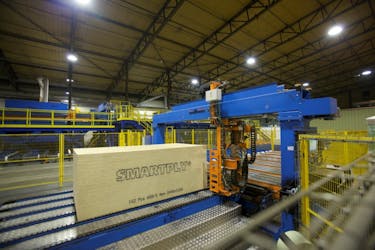 MEDITE is a pioneer of low formaldehyde emission panels. This experience and focus has led to the development of products such as 'MEDITE CLEAR', a specialist zero-added formaldehyde product which, since its introduction, has been widely specified for environmentally sensitive interior applications such as museums, laboratories, art galleries and schools.

SMARTPLY OSB is the versatile, cost effective and environmentally friendly alternative to plywood. SMARTPLY OSB boards are fully certified, structurally approved, CE Compliant, legal and sustainable alternatives to tropical plywood. In addition to our environmental credentials, we also contribute to the 'healthy environments' movement by ensuring that zero formaldehyde is added to SMARTPLY OSB during its manufacture.
Regulations
Forestry certification means that the environmental and social effects of a wood producer's operations have been independently verified. However currently less than 10% of our global forest area has appropriate certification.

The FSC certification is internationally-recognised standard that assures buyers of wood-based products that the timber used is a result of environmentally and socially responsible forestry management.

SMARTPLY has received the FSC's chain of custody certification, covering not only the supply of raw materials but also its manufacturing and distribution processes. Chain of custody certification provides a guarantee to consumers that the product not only comes from a well-managed forest but has passed through a secure environmentally friendly channel from its origin in the forest right through to the time it is installed by the end-user. Only products from FSC-certified forests can be labelled with the 'tick and tree' logo.
PEFC (Programme for the Endorsement of Forest Certification) certification is available for SMARTPLY products subject to conditions, available upon request.
Our portfolio contains LEED, BREEAM, WELL and HPI certified projects.

The environmental building standard BREEAM (Building Research Establishment Environmental Assessment Method) is one of the world's leading sustainability assessment methods for construction. Awarding credits for use of FSC certified building products, it recognises and reflects the value in higher performing products and projects across the built environment lifecycle.

LEED (Leadership in Energy and Environmental Design) is a green building certification system which is internationally recognised. As a third party verification body, it assesses the design and construction of a building based on performance metrics.

WELL is the leading tool for advancing health and well-being in buildings globally.

The Home Performance Index (HPI) is a certification from the Irish Green Building Council, providing a label for quality sustainable residential development complementing existing schemes used in the commercial sector such as BREEAM and LEED.

Environmental Product Declarations (EPDs)
Environmental Product Declarations (EPD) are a standardised way of providing data about the environmental impacts of a product through the product life cycle.