Sint Lucas students design sustainable and connecting projects for new neighbourhood with MEDITE SMARTPLY
SintLucas is a renowned educational institution in Eindhoven and Boxtel in The Netherlands that focuses on the creative sector and prepares students for various professions ranging from interior design to photography and ceramic styling. The students were given several months, under the guidance of Rene Siebum from SintLucas, to make an item out of MDF to strengthen the bond in the new Eindhoven neighbourhood 'te Veld'. MEDITE SMARTPLY is currently talking with the school and the neighbourhood to see if one project can be installed in the new neighbourhood in Eindhoven.
The neighbourhood's residents are diverse; students, the elderly, expats and many others should be able to find an affordable home out of the 670 sustainable modular homes. The collaboration between SintLucas and MEDITE SMARTPLY aimed to encourage a strong community and improve the residents wellbeing and day to day life.
Sustainability has priority
As buildings account for 39% of energy-related global CO2 emissions1, the focus is increasingly on a sustainable supply chain and Net Zero Carbon buildings. Building with timber is our route to reducing operational carbon emissions of our existing building stock, and the embodied CO2 emissions of the buildings we've yet to construct. It's the material we need to use where possible, to work towards our net zero future in all sorts of practical and imaginative ways.
Building with wood reduces the amount of carbon released into the atmosphere because it has the lowest carbon content of all common building materials, and MEDITE SMARTPLY panels ensure that carbon is stored throughout its life cycle2. Thus, building with wood contributes to improving the climate situation and its use fits perfectly into the future neighbourhood, which is being built with sustainability at the forefront.
MEDITE Makes It Real
The collaboration with SintLucas showcases this ambition. The MEDITE Makes It Real campaign was launched to challenge makers to be imaginative with MEDITE MDF and MEDITE values boundless creativity, therefore considering it important to give a new generation of creatives the chance to develop their skills using sustainable materials.
Teacher René Siebum supervised the project at SintLucas and he was immediately enthusiastic: "We like to be practice-oriented in the assignments we give our students. Thanks to this collaboration for the MEDITE Makes It Real campaign, we can introduce students to different materials and let them work on a concrete assignment with local impact."
Surprising and diverse designs
After three months of drawing, sawing and carpentry, nine students presented their final projects. All the extraordinary creations made the abstract concept of 'neighbourhood bonding' tangible. Henny Henderson, sales manager at MEDITE SMARTPLY: "The students worked with different types of MDF material to bring their ideas to life: MEDITE PREMIER and MEDITE MR. I really like how each student put an idea into practice in his or her own way and how they processed and worked with the different types of MDF for their final product."
Lonneke van Loon, one of the SintLucas students who worked on the project, knew right away what she wanted to create: "I made a stool for my final project called 'Seat to Meet'. The chair is easy to assemble and paint together which makes it a fun activity to undertake with neighbours. During the process, I learned how to work with the material, which led me to an even better final product than I originally envisioned."
On the day of the final presentations, students delivered a variety of projects: a wishing tree, a MEDITE MR MDF marble track, an open cupboard with organic shapes to share items, a table where residents can leave plants to share, a stool that residents can assemble and paint together, a goose board game, wall art in the shapes of te Veld's neighbourhoods, a letter puzzle and a flower arrangement that can take on all kinds of shapes and sizes. A journalist from Het Houtblad was also present to admire and record the projects.
Elaboration and follow-up
Lecturer Siebum reflects on the project positively: "We started the collaboration with MEDITE SMARTPLY because we like to work with good quality products and sustainability within SintLucas and Buurtschap te Veld is very important. Due to its sustainable sourcing and production, MEDITE SMARTPLY was a perfect match. Students have to consider the client brief, properties of the material and possible designs at the same time. That's why I love these kinds of practical assignments. They have produced really nice results in a short time."
Henny Henderson, sales manager at MEDITE SMARTPLY: "I am impressed by the way the students interpreted the assignment and how they worked on the different MEDITE MDF products. The material gave them a lot of freedom and I definitely see potential to develop some of the students' ideas further. There are projects I would like to put in our office in no time."
Student Julie Lacroix is pleased with the enthusiastic response to her design: "With my design 'Together we Grow', I want to show that you can make beautiful things using each other's imagination. I have created various organic shapes that residents can use to put together a plant or bouquet, for example." For her, the project does not end with the final presentations either. "I am currently in talks with MEDITE to see how we can further shape and develop my project," Lacroix said.
1 https://worldgbc.org/advancing...
2 https://mdfosb.com/nl/sustaina...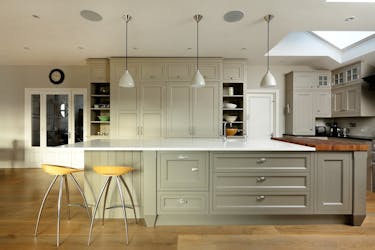 Panneau MDF multifonction

Surface lisse

Qualité et épaisseur constantes

Excellentes qualités d'usinage

Certifié FSC®

Conforme au CARB 2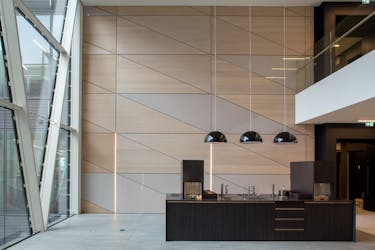 Panneau MDF résistant au feu

Classement Euroclasse B

Surface lisse

Qualité et épaisseur constantes

Excellentes qualités d'usinage

Certifié FSC®

Conforme au CARB 2

Panneau MDF résistant à l'humidité

Idéal pour les milieux humides

Qualités d'usinage exceptionnelles

Surface lisse

Qualité et épaisseur constantes

Certifié FSC®

Conforme au CARB 2