COP's (ook wel Conference of the Parties) vinden sinds 1995 plaats. Bijna alle landen ter wereld zijn vertegenwoordigd op deze klimaattop.
Tijdens COP21 in 2015 werd in de overeenkomst van Parijs een maximale opwarming van de aarde van 2°C, bij voorkeur 1,5°C, vastgesteld om een catastrofale klimaatverandering te voorkomen. Recent bleek dat deze doelstelling niet serieus genoeg wordt genomen om een substantiële verbetering te kunnen realiseren. Op de COP26 wordt het onderwerp opnieuw onder de aandacht gebracht en worden de doelstellingen opnieuw vastgesteld, zodat deze in overeenstemming zijn met de ambitieuze uitstootreductiedoelstellingen. Zo is een van de belangrijkste doelstellingen voor COP26: "Wereldwijd klimaatneutraal zijn in 2050 en de opwarming van de aarde met maximaal 1,5 graden binnen bereik houden". Meer informatie vindt u hier: https://ukcop26.org/cop26-goals
Hoe waren wij erbij betrokken?
MEDITE SMARTPLY speelde een cruciale rol bij de bouw van het COP26-huis. Dit is een uitstootvrij houten gebouw van Beyond Zero Homes. Voor het project werden tijdens de VN Klimaatconferentie van 2021 CO2-arme, circulaire oplossingen in bouwen en wonen getoond in het COP 26-huis
Beyond Zero Homes heeft een gemeenschappelijk doel dat verder gaat dan geen uitstoot produceren: laten zien hoe je mooie, betaalbare en gezonde woningen ontwikkelt met een minimale impact op het milieu, gedurende hun hele levenscyclus.
Het huis met één slaapkamer werd gebouwd op een perceel van 10m x 5m. Voor de bouw werd vurenhout van eigen bodem gebruikt, zodat er geen geïmporteerd hout nodig was. En de constructie was gebaseerd op een raster van 1,2 m. Op die manier was het gemakkelijk om de standaardafmetingen van plaatmateriaal te gebruiken. Deze elementen lenen zich perfect voor de specificatie van SMARTPLY OSB, dat duurzaam geproduceerd is in Ierland.
Meer informatie: beyondzerohomes.co.uk/cop26-house/
Het COP26 Huis

In samenwerking met Architecture Today hebben we van 2 tot 4 november 2021 een reeks evenementen gehouden, waaronder rondetafelgesprekken met de architect van het huis over zijn ideeën en visie. Prominente figuren uit de bouwsector spraken over de uitdagingen die voortvloeien uit COP26 en de gevolgen voor de sector.
Bekijk de virtuele tour en lees hieronder over enkele van de onderzochte onderwerpen:
We hebben een 'plastic rietje-moment' nodig voor huisvesting, zeggen industrie-experts op COP26

De vraag van de consument naar duurzame materialen en bouwtechnieken is de sleutel tot verandering, zeggen industrie-experts tijdens een rondetafelgesprek georganiseerd door Architecture Today en MEDITE SMARTPLY in het COP26 House.
Bouwen aan een duurzame toeleveringsketen

Redacteur Isabel Allen spreekt met Roly Ward van MEDITE SMARTPLY. Het plaatmateriaal van MEDITE SMARTPLY speelt een sleutelrol bij de bouw van het CO2-vrije COP26 huis in Glasgow. Ze bespreken het uitbannen van greenwashing in de toeleveringsketen.
Klimaatonderwijs

Experts uit de hele sector schuiven aan bij Architecture Today en MEDITE SMARTPLY in het COP26 House om te bespreken hoe het onderwijs opnieuw kan worden vormgegeven om de uitdagingen van de klimaatverandering aan te pakken.
Wat is de volgende stap voor het COP26 House?
In dit video-interview met Peter Smith, van Roderick James Architects, legt de architect uit hoe het COP26 House - het tijdelijke hoofdkantoor van Architecture Today in Glasgow - deel gaat uitmaken van een CO2-arme, betaalbare ontwikkeling in het Cairngorms National Park.

Gebruikte MEDITE SMARTPLY producten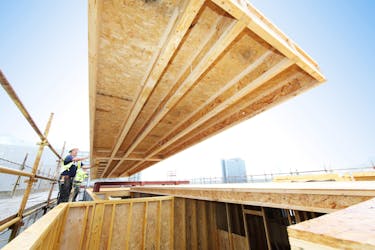 Sterke OSB4-plaat

Sterker en beter bestand tegen vocht dan OSB3

Hoog draagvermogen

Consistent oppervlak

Geen toegevoegd formaldehyde

FSC®-gecertificeerd
Luchtdichte OSB3-plaat

Voor passivhaus

Hoogwaardige coating

Geïntegreerd dampscherm

Geen toegevoegd formaldehyde

FSC®-gecertificeerd

30 mm dikke OSB4-plaat met mes en groef

Duurzaam voor tussenvloeren

Heavy-duty magazijnstellingen

Sterker dan P5-alternatieven

Geschikt voor serviceklasse 2

Geen toegevoegd formaldehyde

FSC®-gecertificeerd