MEDITE SMARTPLY drukte een duidelijke stempel op de RHS Chelsea Flower Show 2022. Voor het evenement in mei werd samengewerkt met de wereldberoemde ontwerper, Sarah Eberle.
Na onze betrokkenheid bij de COP26 VN-conferentie over klimaatverandering in Glasgow, hebben we ons op de RHS Chelsea Flower Show gericht. Daar brachten we ons innovatieve productassortiment en onze inzet voor duurzaam bouwen onder de aandacht. In samenwerking met Sarah Eberle wilden we de mogelijkheden van MDF laten zien op de plek van 's werelds beste tuinontwerpen.
Het middelpunt van de tuin, geïnspireerd op natuurlijke, verticale rotslagen, is gemaakt van MEDITE TRICOYA EXTREME (MTX). Dat is een lichtgewicht plaat die bij bovengronds gebruik vijftig jaar meegaat. Als de plaat in de grond wordt gebruikt, gaat die 25 jaar mee. Het materiaal leent zich vooral goed voor vochtige omgevingen met wisselende weersomstandigheden. De creatie op de RHS Chelsea Flower Show liet de veelzijdigheid van MDF zien.
Andere producten zoals SMARTPLY STRONGDECK waren ook in de tuin te zien. Deze hoogwaardige gemodificeerde OSB/4-plaat is geschikt als er veel geëist wordt van het materiaal, zoals in vloeren. Daarnaast werd de tuin beveiligd met SMARTPLY SITEPROTECT PLUS, een structurele OSB/3-plaat die ideaal is voor het beveiligen van terreinen of het promoten van merkboodschappen bij een groot publiek.
Wat is er met de tuin gebeurd?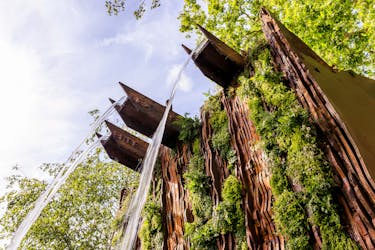 De MEDITE SMARTPLY 'Building the future-tuin' werd hergebruikt. Een groot deel is aan Andover Trees United geschonken, een vrijwilligersorganisatie voor het milieu die nauw samenwerkt met scholen en lokale overheden.
Bekijk onze driedelige filmserie waarin we onze tuinontwerper voorstellen, de kwekerijen bezoeken, haar meenemen naar Ierland en het eindresultaat laten zien.
Deel 1 - Kennismaking met onze tuinontwerper
Deel 2 - Coillte Kwekerijen, MEDITE Mill en Alex en Emma Devereux
Deel 3 - De RHS Chelsea Flower Show