Überblick
SMARTPLY PATTRESS PLUS ist eine hochentwickelte SMARTPLY OSB/3-Platte mit einer durchgehenden Aussparung zur Aufnahme C-förmiger Metallteile, wie sie beim Bau von leichten Trockenbauwandsystemen verwendet werden.
Sie wird gemäß der relevanten Abschnitte von BS5234 Teil 2 geprüft und zeigte dabei eine große Ausreißfestigkeit.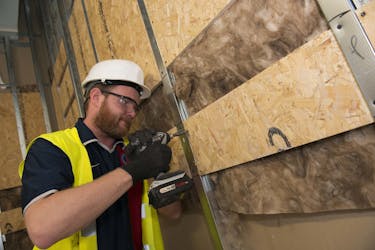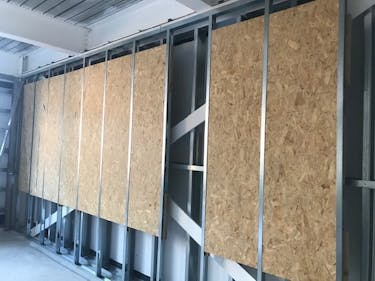 Auf einen Blick
Hochfeste OSB/3-Platten mit durchlaufender Aussparung

Vorbereitete, modulare Platten

Schneller Einbau von Verteilerdosen

Für eine sichere Verankerung

Kein Zusatz von Formaldehyd

FSC®-zertifiziert
Spezifikation und Größen
SMARTPLY PATTRESS PLUS ist gemäß EN300 hergestellt, CE-gekennzeichnet und FSC-zertifiziert und damit eine vollständig zertifizierte Alternative zu Sperrholz.
Paneelgröße

1250 x 397mm
Dicke

15 and 18mm
Paneelgröße

2397 x 397mm
Dicke

15 and 18mm
Paneelgröße

1250 x 597mm
Dicke

15 and 18mm
Paneelgröße

2397 x 597mm
Dicke

15 and 18mm
Anwendungsbereiche
SMARTPLY PATTRESS PLUS wurde zur Verstärkung von Befestigungs- und Verbindungselementen in nicht tragenden Metallständerkonstruktionen entwickelt.
Die vorbereiteten modularen Platten sind schnell und einfach zu verwenden und passen in alle handelsüblichen Trockenbau- und Ständerwerksysteme. Die hochleistungsfähigen OSB-Hartkernplatten garantieren festen Halt an jedem Punkt der Plattenoberfläche.
SMARTPLY PATTRESS PLUS erhöht die Dicke der fertigen Trennwand nicht und sorgt für eine robuste Wandstruktur, die für die Verwendung in öffentlich zugänglichen Bereichen einschließlich Korridoren und Treppenhäusern geeignet ist, und dadurch zu höherer Stoßfestigkeit beiträgt.
SMARTPLY PATTRESS PLUS ist eine OSB/3-Platte ohne Zusatz von Formaldehyd und kann sich daher auch bei Inneneinrichtungen, die möglichst emissionsarm sein müssen, wie in Museen, Laboren, Kunstgalerien und Schulen eingesetzt wird, als nützlich erweisen.