COPs (or Conference of the Parties) have been taking place since 1995 in order for almost every country in the world to meet for a global climate summit.
At COP21 in 2015, the Paris agreement set a global warming maximum limit of 2°C, preferably 1.5°C, in order to avoid a catastrophic climate change situation. Recently, it has become apparent that this target has not been taken seriously enough to make a substantial improvement. COP26 will see the subject brought back into focus and reset targets in line ambitious emissions reductions targets, as one of the main the goals for COP26 : 'secure global net zero by mid-century and keep 1.5 degrees within reach'. Further information can be found here: https://ukcop26.org/cop26-goals
How were we involved?
MEDITE SMARTPLY played a crucial role in the construction of the COP26 House, a zero carbon, timber frame building built by Beyond Zero Homes. The project showcased low carbon, circular solutions in building and living during the 2021 UN Climate Change Conference in Glasgow.
The members of Beyond Zero Homes are united by a common goal that goes beyond zero carbon: to demonstrate how beautiful, affordable, healthy homes can be developed with minimal impact on the environment, throughout their lifecycle.
The one-bedroom house was built on a 10m x 5m footprint. It had been specifically designed to use homegrown C16 Spruce to avoid the need for imported timber, and the construction was based on a 1.2m grid to be easily panelised and prefabricated. These elements lend themselves perfectly to the specification of SMARTPLY OSB, sustainably produced in Ireland and already stored across the UK.
Find out more: beyondzerohomes.co.uk/cop26-house/
The COP26 house

We partnered with Architecture Today to host a series of events from the 2nd-4th of November 2021, this included roundtables with the architect of the house about his ideas behind the project and his vision, as well as with key people within the world of specification to discuss issues emerging from COP26 and the implications for the construction industry.
Take a look at the virtual tour and read about some of the topics explored below:
We need a plastic straw moment for housing, say industry experts at COP26

Consumer demand for sustainable materials and building techniques is key to driving change, say industry experts at a roundtable hosted by Architecture Today and MEDITE SMARTPLY at the COP26 House.
Building a Sustainable Supply Chain

Editor Isabel Allen discusses ousting greenwashing in the supply chain with Roly Ward from the sustainable timber panel manufacturer MEDITE SMARTPLY, a material key in building the zero-carbon COP26 House in Glasgow.
Climate Ready Education

Experts from across the industry join Architecture Today and MEDITE SMARTPLY at the COP26 House to discuss how to reshape education to address the challenges posed by climate change.
What's Next for the COP26 House?
In this video interview with Peter Smith of Roderick James Architects, the architect explains how the COP26 House – Architecture Today's temporary HQ in Glasgow – will go on to form part of a low-carbon, affordable development in the Cairngorms National Park.
MEDITE SMARTPLY products used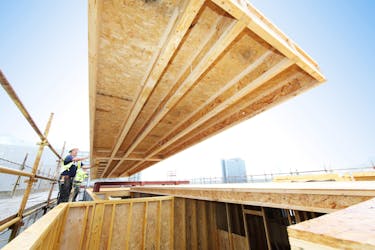 Hochfeste OSB4-Platten

Fester und feuchteresistenter als OSB3-Platten

Hohe Tragfähigkeit

Einheitliche Oberfläche

Kein Zusatz von Formaldehyd

FSC®-zertifiziert
Luftdichte OSB3-Platten

Für die Verwendung beim Passivhausbau

Hochwertige Beschichtung

Integrierte Dampfsperre

Kein Zusatz von Formaldehyd

FSC®-zertifiziert

30 mm dicke OSB4-Nut-und-Feder-Platten

Haltbare Lagerbühnen

Robuste Wandscheiben

Fester als P5-Alternativen

Geeignet für Gebrauchsklasse 2

Kein Zusatz von Formaldehyd

FSC®-zertifiziert