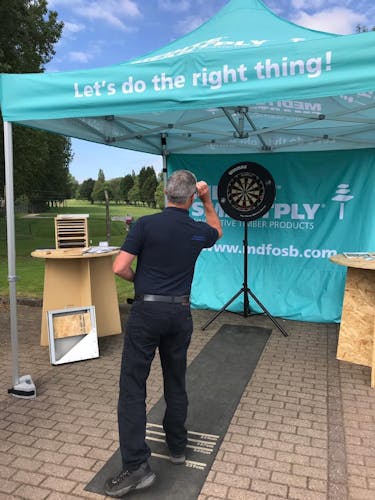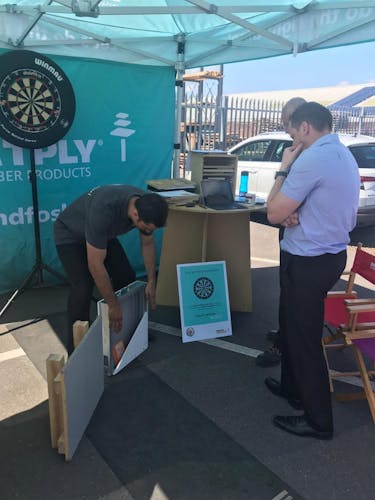 This year, a team of dedicated MEDITE SMARTPLY product experts embarked on a hugely successful four-month long road trip around the UK and Ireland.
Now at an end after visiting over 80 locations from June to October, with an August break, Devin Fallon, Technical Sales Manager, reflects on the journey: "The tour was intended to enable MEDITE SMARTPLY to strengthen relationships with its local customer bases and building contractors, to engage with them directly and it was extremely well received throughout.
"Our overall impression has been that although our customers are aware of the MEDITE SMARTPLY brand, it has been extremely valuable to make contact face to face with tradespeople, to be able to clearly get to grips with our large range of products and how they solve problems for day to day work challenges."
It's important to us, now as it has always been, to understand our customers' needs and the issues they face, and to work towards proactive solutions with them."
The tour brought a wide range of industry leading products, many newly launched in 2019, to specialist timber distributors and builders' merchants across Ireland. Also serving breakfast rolls and refreshments, tradespeople had the opportunity to grab a bite to eat or enjoy a coffee while chatting to a product expert.
Devin continued: "Engaging face to face meant that we were able to ask our customers directly, what challenges do you face every day, or what would you like to improve about a particular process?
"Some notable feedback we got was that many people would like to be able to save time while installing site hoarding. We have a solution to that! Introducing visitors to SMARTPLY SITEPROTECT, they were very impressed to find a strong and durable site hoarding panel that comes pre-primed, saving both time and money. We were delighted to have provided a practical solution!"
Attendees also had the opportunity to take part in games and competitions for chances to win prizes on the day. See more of what the team got up to on the road in our video below.
Fostering an ethos of sustainability within the timber industry and of positively developing higher quality standards in the construction industry, MEDITE SMARTPLY is a sustainable timber panel manufacturer, only using timber from responsibly managed forests in Ireland. Let's do the right thing!