When it comes to building homes, timber construction is an efficient way forward for several reasons. It's lighter than other building materials such as steel or masonry, it's easier to install, and it's also a sustainable and renewable building material.
When improved fire performance requirements are specified due to the nature of the project, the right flame retardant panels will help improve fire safety when timber is the main building material.
At MEDITE SMARTPLY, we strive to stay at the forefront of the timber industry by developing robust, innovative timber panel products that service the entire building envelope, including roofing. One such product is the flame retardant OSB/3 panel SMARTPLY MAX FR B with high racking strength and limitless design possibilities.

What makes SMARTPLY MAX FR B a great choice for residential properties? It is a structural, moisture resistant OSB/3 panel with outstanding and reliable reaction to fire properties and is ideal for use where strength, moisture resistance and improved flame retardance are paramount.
It is the first Euroclass B OSB/3 panel manufactured in the UK and Ireland where a water-based, non-toxic flame retardant solution is applied to the wood strands during manufacture and as a result the product is CE marked for structural applications and for its improved reaction to fire properties, offering great peace of mind to architects and contractors.
Similarly to other SMARTPLY products, it offers great versatility and is suitable for a wide range of applications for residential and commercial uses. It's independently certified for the most demanding structural applications in permanent construction such as wall sheathing, flooring and roofing.
The panel is lightweight and easy to cut and fix compared to alternative mineral-based panels which can crack and shatter. This makes it easier for builders and fabricators to work with on or offsite.
In addition to permanent constructions, SMARTPLY MAX FR B is suitable for general free-standing applications where enhanced reaction to fire performance is required, such as timber frame construction, fire protection during construction, furniture and general joinery.
It is manufactured using FSC® certified timber from our own forests and features no added formaldehyde or any harmful substances, which not only contributes towards the sustainability credentials of the building, but also helps to create healthier environments for the building occupants.
For further information on SMARTPLY MAX FR B and its applications, visit: https://mdfosb.com/en/products/smartply-max-fr-b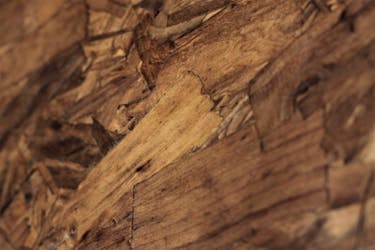 Flame retardant OSB/3 panel

Euroclass B rating

High racking strength

Versatile structural panel

No added formaldehyde

FSC® Certified