There is a lot to consider when it comes choosing the right materials for interior fit outs. As well as understanding the client's desired aesthetic, it's also important to identify how these materials can withstand certain environments and boost the vitality of an interior space. Especially at a time when people are becoming more conscious about the buildings they occupy. So, what should fabricators use?
Over the years, MEDITE SMARTPLY has developed diverse, high performance panel products that provide, fabricators, designers, and architects with innovative solutions to everyday problems while offering greater design freedom.
The MEDITE MDF range includes technically specialised products ranging in everything from moisture and water resistance, to flame retardance and is suitable for a range of different applications, such as office fit outs, bathrooms, and kitchens, and even furniture.
In terms of versatility, MEDITE PREMIER is one of the more popular choices, thanks to its excellent machinability and consistent quality and thickness, and suitability for standard and bespoke applications. Its smooth face properties make MEDITE PREMIER suitable for the application of veneers, laminates, and surface coatings to achieve the desired result. This is ideal for furniture makers and bespoke craftspeople such as professional joinery company Richard Baker, who have used MEDITE PREMIER in creating bespoke pieces, such as a coffee bar, door profiles and bolection mouldings.
Its sister panel MEDITE PREMIER FR is ideal for applications where a Euroclass B or C fire rated panel must be used, such as in schools and public buildings.
For sensitive environments such as kitchens and bathrooms, MEDITE MR is also a popular choice. MEDITE MR is a moisture resistant MDF panel designed for use in indoor humid conditions and was the choice of product for Infinitus Bespoke Interiors for a client's art deco-style bathroom. Its easy machinability provided them with great flexibility too.
In addition, we have the SMARTPLY OSB range. These engineered structural panels are manufactured with no added formaldehyde, which makes it safer for fabricators and builders to work with and contributes to a safer overall building. Exposed SMARTPLY OSB/3 panels can also have striking visual appeal. Hanson Architects installed OSB panels throughout their office and meeting room to create an uncomplicated, elegant space.
Like its MDF counterparts, the OSB range is sustainably manufactured and can help realise your clients' BREEAM, LEED or WELL Standard credentials.
Discover more about MEDITE SMARTPLY's extensive range of MDF and OSB products and how they can benefit your next project here.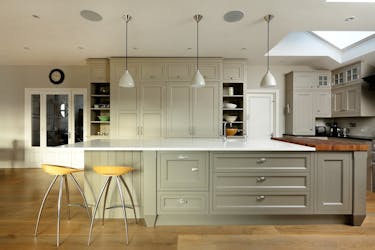 Multi-purpose MDF

Smooth surface

Consistent quality and thickness

Excellent machining qualities

FSC® certified

CARB2 compliant

Moisture resistant MDF

Ideal for humid conditions

Outstanding machining qualities

Smooth surface

Consistent quality and thickness

FSC® certified

CARB2 compliant